Biosecurity and Disease Prevention
What is biosecurity?
Definition: management practices designed to prevent or greatly reduce infectious diseases carried onto farms and stables
Commonly and successfully used in agriculture
Biosecurity programs must be tailored for each premises
Discuss your specific needs with your vet
Why is biosecurity important?
Helps prevent diseases from entering and/or exiting a farm and from spreading among horses living on the farm
Protects animal health
Protects human health (zoonoses)
Reduction of financial losses:

Prevention better than cure (and cheaper!)
Keeps your business running
Less likely to loose a horse through infectious disease

Improves the horse industry by promoting healthy horses
Common causes of disease transmission
Horse to horse (direct / aerosolised)
Human to horse – vets, farriers
Horse to human (zoonotic e.g. salmonella, ring worm)
Fomites (tack, water buckets, water sources, shared feeding, common grazing)
Wildlife and pests (rodents, birds, insects) and pets
Basic biosecurity principles
Daily biosecurity measures
Biosecurity of the new horse
Biosecurity at competitions
Vaccination
Disinfection
Daily biosecurity measures
Maintain horses in small groups of similar ages, minimize mixing
Maintain fences/ gateways
Routine cleaning and disinfection of buckets/stables etc.
Hand washing
Disinfectant foot/ dips between barns
Individual equipment e.g. grooming kit, wheel barrows
Isolation of new horses on yard
Figure 1: Disinfectant foot bath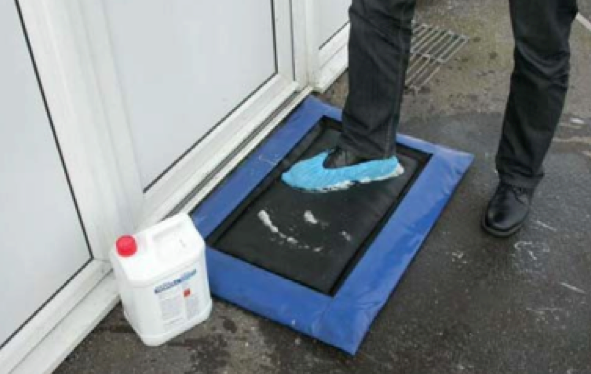 Biosecurity of the new horse
Common source of disease being introduced to a farm or stable
Main worries:

contagious respiratory disease
skin diseases
gastrointestinal parasites
reproductive diseases
neurological diseases

Buy from a reliable source???
Make sure vaccinations are up to date
Veterinary examination
ISOLATION – QUARANTEEN
Isolation facilities
Physical separation (25m – 40m)
Separate water supply
Separate feed storage
Separate muck heap - dispose of waste carefully
Separate equipment – includes clothing, boots, tack, grooming
Ability to disinfect after occupation – metal versus wood
Disinfection facilities
Separate handlers/handle last
Restricted access
Figure 2: Appropriate isolation facilities for a new horse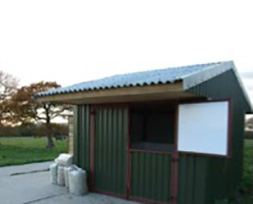 Isolation times and health monitoring
2-3 week isolation period
Health monitoring:

Fever - a common symptom of a disease
Take twice daily rectal temperatures to monitor any presence of fever (Temperature of above 102°F (38.8°C)

Contact vet if:

Horse stops eating and/or drinking, signs of lethargy
Develops nasal discharge
Veterinary tests
Main worry respiratory disease - strangles
Blood sample for strangles at day 14 of isolation
Strangles ELISA – screening test – not "black and white"

Negative
Positive

Active infection – expect clinical signs
Recent exposure (within last 6 months)
Chronic, asymptomatic carrier

POSITIVE REQUIRES FURTHER INVESTIGATION
Biosecurity at competitions
Difficult:

Horses leaving and coming back
Horses coming on to your premises

May not be possible/practical to isolate horses that are returning home, especially if you travel frequently
May not be possible to isolate horses coming to compete on your premises
How do we minimize bringing disease home while travelling?
Up to date vaccinations
Clean, disinfected transport
Avoid communal water troughs and bowls
Use own water bucket and fill from a source that delivers fresh clean water
Tie your horse to your own trailer
If you must tie to a communal site, choose a non-porous surface and disinfect it before tying your horse
Avoid horse to human traffic
Using stables at events
Remove old bedding, if present
Clean walls, railings and door to remove organic matter such as manure
Disinfect surfaces such as water troughs and bowls, latches and handles
Put in clean bedding
Competitions/ shows at your premises – minimizing the risk?
Difficult
Separate competition areas and stabling – if possible
Health declarations for competitors
Vaccinations
Vaccination is the best way to prevent your horse from contracting respiratory diseases, which can be caused by viruses or bacteria. Obviously, if your horse's booster vaccination were to lapse this may increase the risk of contracting a disease, which may otherwise have been preventable.
Bespoke biosecurity programmes
If you need to discuss your individual biosecurity needs, then please feel free to call Central Equine Vets on 0131 664 5606.