Microchipping and Passports
Compulsory Passporting and Microchipping of all Equines in Scotland.
Following birth, horses must now be identified by both a passport and with a microchip inserted into the nuchal ligament.
Horse passports are a human health measure to ensure that horse meat and products do not enter the human food chain if they have been treated with certain veterinary medicines. There is a risk to human health if certain substances are consumed.
Central Equine Vets are able to passport and microchip your equines - call the Practice for further information or to make an appointment: 0131 664 5606.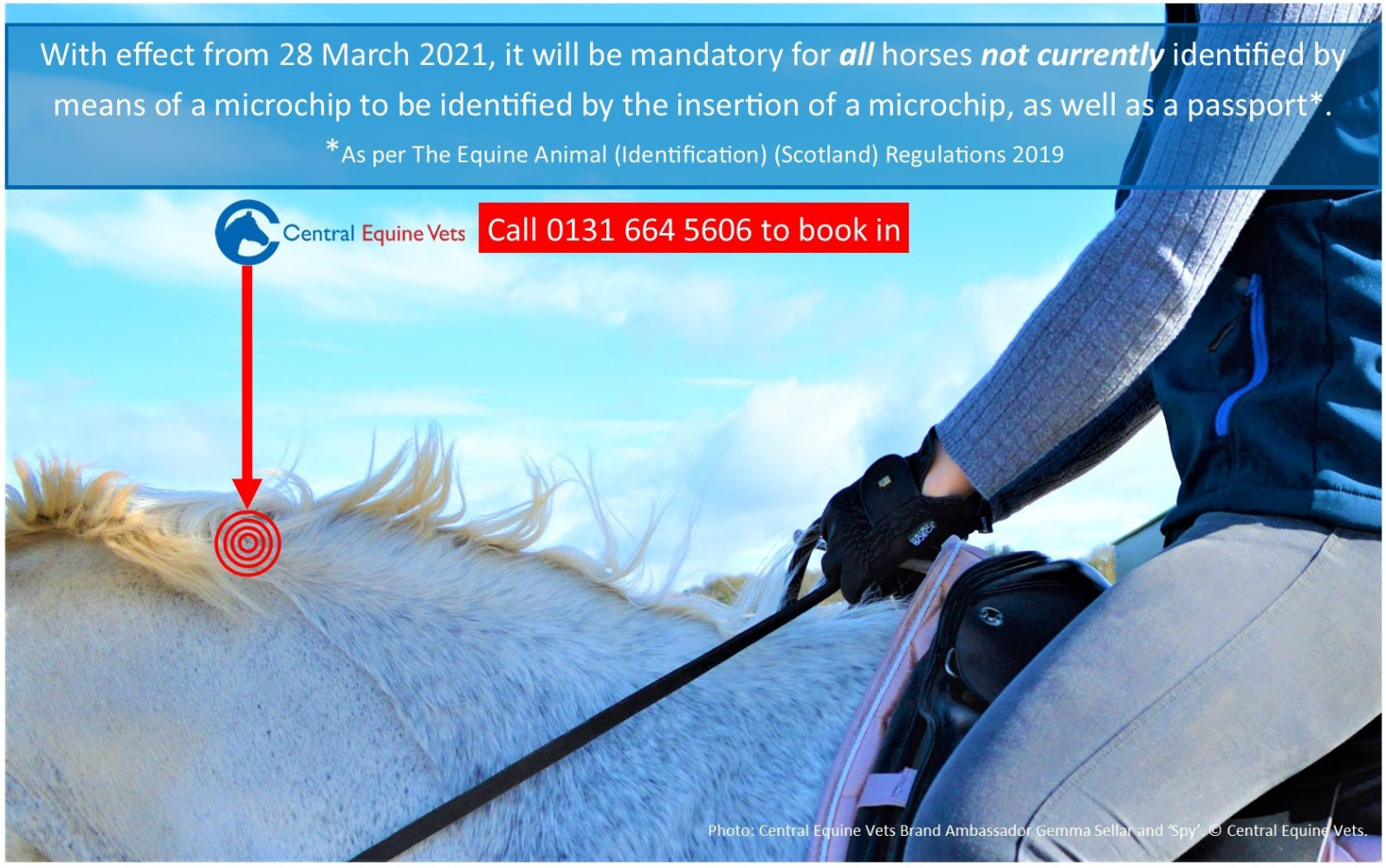 PASSPORTS FOR EQUINES
Why does my horse need a passport?
All horse keepers must obtain individual passports for each horse they are responsible for. Passports must be obtained from an authorised Passport Issuing Organisation (PIO) – this is a legal requirement.
Most PIOs are recognised breed societies and may only issue passports for a particular breed of horse, however, for horses that do not qualify for specific breed recognition, there are PIOs that will issue an identity passport to satisfy the legal requirement.
In Scotland, there are 5 PIOs approved by the Scottish Government: Scottish Approved horse passport issuing organisations and other UK PIOs can be found using this link: Other UK Passport Issuing Organisations
What is a horse passport?
It is a single lifetime identification document which records the identity of a horse and contains information about the horse including certain veterinary medicines administered to it. A horse passport is not an ownership document.
The passport which, unless otherwise provided by the issuing body or provided for in Commission Implementing Regulation (EU) 2015/262, shall remain the property of the issuing body that issued it.
Deadline for identification
A horse must be identified by the later of 31 December in the year of its birth, or within 6 months of its birth.
An application for a passport must be submitted to the PIO 30 days prior to the deadline for identification. PIOs must issue an application pack within 7 days of it being requested.
How do I get a passport for my equine?
Passports are not issued by the Scottish Government, they are issued by authorised PIOs.
Application Process:
1. The keeper of the horse will request an application from the PIO.
2. The PIO will send the application pack within 7 days of receiving the request. This pack will include the details of the requirements of the veterinarian.
3. The keeper will fill in the form with the assistance of their vet and send it back to the PIO.
4. The keeper will receive the passport within 30 days of the application being received by the PIO.
Microchipping will be carried out in addition to completing the silhouette during Passporting.
When would I need an equine passport?
A valid passport should remain with the animal at all times (unless a ScotEquine card has been issued). For example, it should accompany the horse when it is moved for the purposes of competition or breeding, out of Scotland, on to the premises of a new keeper, for the purposes of receiving veterinary treatment and when it is moved to slaughter.
There are some limited exceptions to the requirement to hold a passport or a ScotEquine card. They are not required to accompany the animal when it is:
a) stabled or on pasture, and the identification document can be presented without delay by the keeper;
b) temporarily ridden, driven, led or taken to a place
i. in the vicinity of the holding so that the passport can be presented without delay; or
ii. to and from registered summer grazing grounds provided that the passport can be presented at the holding of departure;
c) unweaned and accompanying its dam or foster mare;
d) participating in a training or test of an equestrian competition or event which requires them to leave temporarily the training, competition or event venue;
e) moved or transported in an emergency situation relating to the horse or to the holding on which they are kept.
In addition, a horse may be moved for a period not exceeding 45 days without a passport if a temporary document has been issued (but not if being moved or transported for slaughter).
ScotEquine card
The 2019 Regulations permit the movement or transport of horses within Scotland without a passport if they are accompanied by a ScotEquine card. The ScotEquine card does not replace a passport. It is a robust ID card (containing statutory information) which can accompany a horse when it is being transported as an alternative to the paper passport. The ScotEquine card will facilitate access to additional information on ScotEquine, including food chain status, through a 'QR' (Quick Response) code. ScotEquine cards are an optional measure for keepers.
A horse cannot be moved to slaughter with a ScotEquine card. It must be accompanied by its passport. A horse cannot be bought or sold with only a ScotEquine card.
My horse needs vaccinated - do I need the passport?
Yes - All vaccines administered must be recorded in the passport and certified by a vet regardless of whether or not the horse is intended for human consumption.
There is no legal requirement to record any other medicines in the passport of a horse if it has been signed out of the human food chain, other than vaccination records.
Compulsory Microchipping of Equines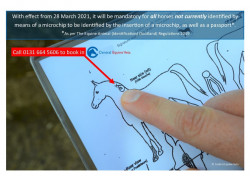 With effect from 28 March 2021, it will be mandatory for ALL horses NOT CURRENTLY identified by means of a microchip to be identified by the insertion of a microchip as well as a passport.
Why will my equine need a microchip?
The Equine Animal (Identification) (Scotland) Regulations 2019, which came into force on 28 March 2019 revoke and replace the Horse Identification (Scotland) Regulations 2009.
The Regulations further implement European Commission Implementing Regulation (EU) 2015/2622.
The legislation requires all equines, regardless of age or status, to be accompanied by an identification document (passport/ScotEquine card) and implanted with a microchip. This will allow local authorities and the police to track the owners of abandoned, lost or stolen horses, so they can be reunited with their owners more easily.
Which equines does this include?
This would include, without exception, equines used for agricultural purposes, riding ponies, pets, companion animals, hacks, competition animals etc. Similar domestic Regulations have been introduced in England, Wales and Northern Ireland. (Definition: 'Horse' means wild or domesticated soliped mammal(s) of all species within the genus Equus of the family Equidae and their crosses (e.g. horse, donkey, mule, hinny (jennet), zebra, Przewalski, or their crosses.))
How is microchipping performed?
Only a vet can implant your horse with a microchip. The vet, before implanting a microchip, will be required to ensure that the horse has not already been identified by insertion of a microchip. First of all the horse is scanned to make sure that there is no existing microchip within the horse's neck. The microchip, a small implant, about the size of a grain of rice, which contains a unique serial code is then inserted, via an injection, into the nuchal ligament, mid crest on the left side of the horse's neck, usually under local anaesthetic. This procedure can only be carried out by a veterinary surgeon.
The horse owner's details and a unique serial code are stored on a computerised database, which links the owner to the horse. It is therefore important that the owner's details on the database are kept up to date.
Once the microchip has been implanted, an electronic microchip reader can easily read it.
The microchip cannot move or be seen – therefore, it is tamper-proof and permanent, unlike other more traditional methods of identification, such as freeze marking.
Although microchipping is considered very safe, there is a very small risk of bruising, abscess formation and on very rare occasions, migration of the microchip. In some horses a small area of white hair may grow in at the site of microchip implantation.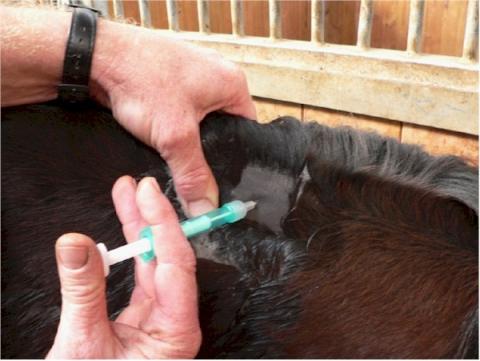 Picture 1: A microchip being inserted
To find out more, including implications if you don't passport and microchip your equine, follow this link to the Scottish Government's website: http://www.gov.scot/…/horse-passports-guidance-own…/pages/1/
Central Equine Vets are able to passport and microchip your equines - call the Practice for further information or to make an appointment: 0131 664 5606.