Helping our clients' horses live long, happy and healthy lives.
***COVID-19 REGULATIONS & UPDATE***
It has been an extremely challenging time for so many and we would firstly like to thank you, our clients, for your continued patience and understanding towards our revised and required working practices during the Covid-19 pandemic.
The UK veterinary professionals receive continued guidance from the Royal College of Veterinary Surgeons, the British Veterinary Association and for equine vets, the British Equine Veterinary Association. This guidance is in response to the ongoing Government guidelines for working restrictions and this is what dictates our working practises during this time. Our vets (and all vets throughout the UK) have been continuing to do their very best to maintain the welfare of farm animals, pets and wildlife since the pandemic began and we thank you all for being so understanding and for helping to keep our vets (and their families) safe by adhering to social distancing requirements when we have attended appointments for your equines.
MICROCHIPPING - ALL HORSES IN SCOTLAND MUST HAVE BEEN MICROCHIPPED BY 28th MARCH 2021!
If your horse, pony or donkey hasn't got a microchip, or you're not sure if they do, contact us and get booked in for a check & chip. Tel: 0131 664 5606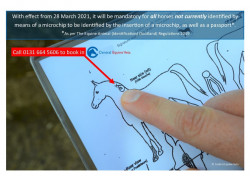 We are continuing to maintain our Covid-19 Protocols throughout all appointments and ask that the following guidelines are met:
- Please wear a mask for your appointment.
- Please ensure that horses are tied up for the vet, preferably outside, ensuring that you remain at least 2 metres away from the vet at all times where possible.
- If we are visiting the yard to attend multiple horses, please try to limit the number of people appointed to handle all the horses.
- If you have Covid-19 symptoms (new dry cough, temperature, shortness of breath, loss of taste or smell or generally feel unwell), please do not attend your appointment and either cancel it as soon as possible , or arrange for someone to hold your horse on your behalf.
The Central Equine Vets Team
Central Equine Veterinary Services Ltd is a first opinion, ambulatory (mobile) equine veterinary practice based in Edinburgh. The clinic provides a high quality service to horse, pony and donkey owners in the Edinburgh, Mid, West and East Lothian, Falkirk, Dunfermline, Kirkcaldy and Clackmannanshire regions of central Scotland.
At Central Equine Vets we take pride in our dedication to the highest standards in equine veterinary practice. We offer a complete equine veterinary service using veterinary medical technology which cannot be matched by any other private practice within the area.
Malcolm Corsar BVM&S Cert. AVP (EP) MRCVS, Matthew Hanks BVSc MRCVS and Holly Marshall BVM&S CertAVP(EM) MRCVS have over 40 years of combined experience in equine practice, 17 of which have been spent by Malcolm and Matthew working at the world-renowned University of Edinburgh's Royal (Dick) School of Veterinary Studies (R(D)SVS). During this time, both have become client-recognised equine practitioners, with excellent reputations within eastern central Scotland and the surrounding area. Holly Marshall joined the practice in 2019 adding her excellent equine veterinary expertise to the team.
The goal of Central Equine Vets is to help our clients' horses to live long, happy and healthy lives. We believe that a key element to a healthy horse is a great client relationship with an experienced equine veterinary surgeon. Malcolm, Matthew and Holly are committed to a professional, caring, personalised service.
We hope you enjoy browsing our website.
Your views count
We are always keen to hear your views, so please feel free to provide feedback if you have any comments or suggestions concerning our website or the services we offer.